Meet the Doctors
Bruce A. D'Agostino, DDS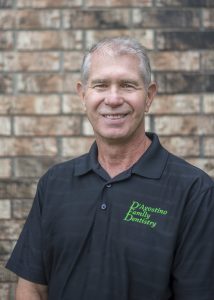 Dr. Bruce was born in White Plains NY. He earned his Undergraduate Degree from Iowa State University and his DDS Degree at the University of Iowa. Throughout his impressive career, Dr. Bruce has traveled internationally in his quest for exciting and informative continuing education. He is currently a member of the American Dental Association, the Iowa Dental Association and involved with the Iowa Mission of Mercy .
Dr. Bruce is married to Vickie, the office manager. His only daughter Adrienne is his associate in practice. His stepson, Josh, is retired from the Air Force, and is now back home and attending NICC for business management. In his spare time, Bruce loves the outdoors, camping, grilling and pheasant and deer hunting.
Dr. Adrienne purchased the dental practice January 5, 2016. Dr. Bruce is still working 2 1/2 days a week but has extra time to spend with his granddaughter Willa, grandson Anthony, and his three dogs Sami, Riley and Ziti. Dr. Bruce is an avid woodworker. His design of our new office and the intricate trim work was a labor of love, during the construction process.
"I have enjoyed working in Maquoketa for over 30+ years.  I love dentistry, and spending time getting to know all of my patients. Years ago when I started my practice I never imagined I would have a daughter and she would come to work with me everyday."
---
Adrienne D'Agostino Kane, DDS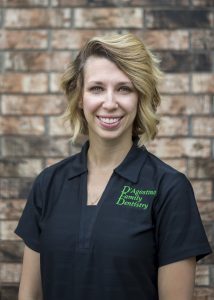 Dr. Adrienne was born in Dubuque, IA. She followed in her Dad's footsteps by earning her Undergraduate Degree at Iowa State University and later earning her DDS Degree from the University of Iowa. After joining the practice in 2010, she has traveled with Dr. Bruce to attend different continuing education courses.  She purchased the practice from Dr. Bruce in January 2016, and is excited for the future of D'Agostino Family Dentistry. Dr Adrienne is a member of the American Dental Association and the Iowa Dental Association.
In her spare time, Dr. Adrienne also loves the outdoors, camping and fishing with her husband Nick, their Daughter Willa, their son Anthony, and their German Shepherd, Jack. She is a former cheerleader for Iowa State, and is still a big fan. Her favorite operatory is dedicated to Iowa State.  She also donates her time to work with Maquoketa's high school cheer squad, as well as being involved in the Chamber of Commerce, Maquoketa Betterement Board, and Peace Pipe players.
"I'm excited to be back in Maquoketa, and working with my family.  I love getting to know my patients and being a part of their lives.  I enjoy the small town, friendly atmosphere and couldn't imagine being anywhere else."